4X Race - GOLD COAST
The first round of the 4X series in Queensland was held at Illinbah, in the Gold Coast hinterland. I was stoked to be out on the new Banshee. The track was rocky in places and a little bit rough.
So it was cool to test out how the bike felt on the terrain. I can change the settings on the rear shock to make it stiffer or leave it with the full travel. I opted for full travel on this track front and rear. On smoother tracks I'll lock it out. My gate starts aren't fantastic and I wobble a bit when waiting for the random start.
Something to improve on this year thats for sure. I had 4 motos and came in 2nd place in each. Then in the final I got a bad start and was sitting in 3rd. Then had a sprint finish for 2nd and 3rd. I managed to take a better line to the last corner and get in front (see photo below) and took 2nd place.
Sunday, 4 October 2009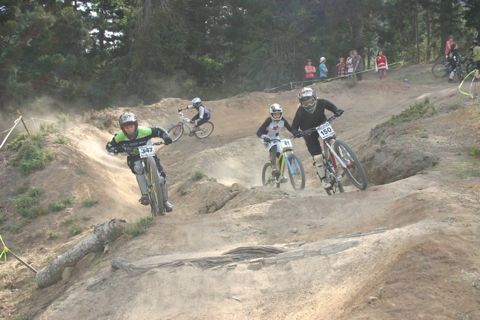 Photo above. Thats me on the right hand side in second place, trying to get past on the outside.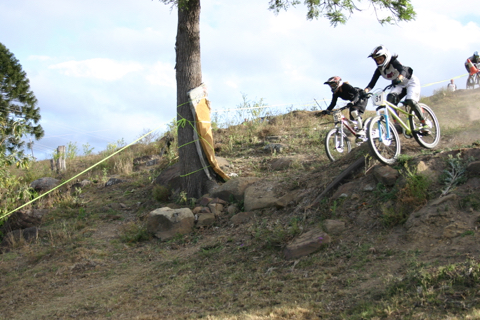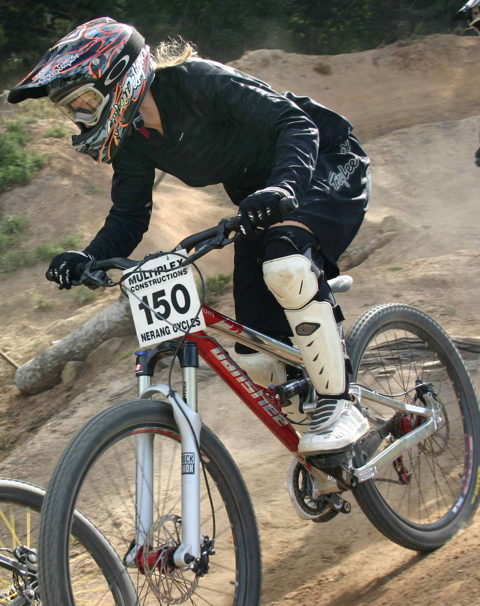 4X RACE - UNDERWOOD
Underwood is a BMX track that had been 'converted' into a 4X track. Its a fairly pedally track with big berms and BMX style jumps. With only 1 weekend between this race and the last one, I hadn't had a chance to practice my gate starts. So got straight onto it.
There were 10 girls in Elite Women this time, with a few BMXers and a couple of other DH girls. Its not often there are this many girls at a race, so there was great competition.
The track wasn't technical, and not many places to overtake. So you really needed to make it to the first corner first. I had 3 motos and came 1st in two and 2nd in the last. This put me in a good position for the semi final.
It was a tough semi and I found myself sitting in 3rd. I sprinted out hard, but couldn't get past. At the final corner I took the outside line and the girl in 2nd took the inside.
I nearly got her on the line, but came in 3rd position. This bumped me out of the final, and I finished in 6th place.
Sunday, 18 October 2009