Kona 24 Hour MTB Race - Hidden Vale
AKA camping with kids and chocolate…and 14 weeks pregnant.
We wanted to race the 4hr event in a duo, however the only option was to race together (keeping within 100 m or so of each other at all times). This format wasn't going to work for us, because we had the two kids to look after. So we entered into the 24 hour.
We arrived to Hidden Vale on Good Friday and pitched the tent, shelter, set up BBQ, beds etc etc etc… We had intentions of riding the track in the afternoon, but by the time we had set up our campsite, it was getting time to feed the hungry kids and then settle in for the night.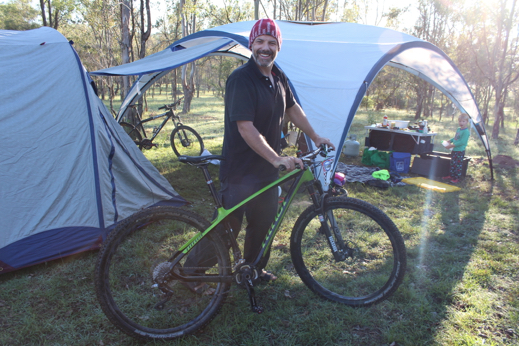 Easter Saturday was race day. The day was full of activities before the main event started. Our kids woke us up at 4:30am and the day had begun.
Hidden Vale is the location of the Spicers Retreat (fancy accommodation and restaurant overlooking lovely rolling hills and countryside). The race HQ was a few kilometres away from the main Spicers area, but we were told we could go to the restaurant for hot coffee. So after having some breakfast we ducked down to get coffee and pretend that we could afford to stay and eat at the restaurant. The staff were lovely and we would love to go back to stay there one day.
Back to the campsite, and I geared up for the kids race. Felix was racing his first event! The course was part of the main race track. There was a huge turn out for the kids, and a big range of abilities and ages. Felix (3.5 years old) was on a balance bike, which had its own class. I rode with him so he would know where to go. The crowd was huge, and cheering all the kids on, it was a great atmosphere. The track was quite tricky for kids. It went down a steep rocky long section where lots of kids crashed. Then it followed some single track up over rocks and through sand, under a bridge and back up onto a fire road. We stopped a few times for a drink, and Felix seemed to be enjoying it. Towards the finish line the commentator cheered on all the kids and Felix and I went through the finish line. He came first in his class, and did the 1.7 km track in about 15 mins. We were so proud of him.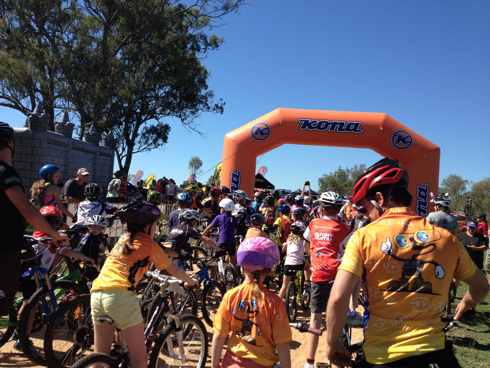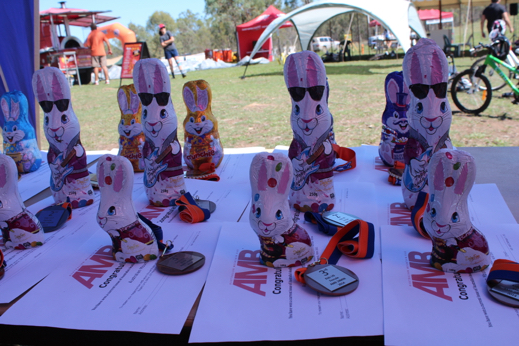 Photo: The kids prizes. Yum!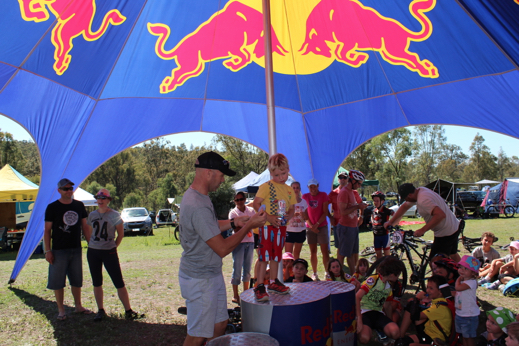 After the kids presentations, we had to quickly get ourselves ready for the start of the 24 hr. Tony was off first and he took off with the 100's of other competitors. The 4 hr race started at the same time. It was midday and getting quite warm. Tony went out for 2 laps which took almost 2 hrs. The kids were entertained on the bouncy castle and other fun things.
We transitioned slowly after Tony finished his laps. We were just there to have fun and ride our bikes, and knew that we couldn't be too competitive (we hadn't been training for a 24 hour!). I went out for my laps and was enjoying just taking it easy. I had ridden some of the trails before (a long time ago for the Duathlon! See link here 2009) but I couldn't really remember what was coming up next. The tracks were dry, rocky and loose. HEAPS OF FUN! There was a tricky rock drop section after the skills park where the ambulance people were stationed. I wasn't keen to blindly ride off it, so I walked it and had a look at the obstacle. The next trails had flow and could easily catch you out if you weren't paying attention. I loved the 'Rock Bottom' track. Lots of little drop offs and fast steep sections through a creek. It took me over an hour to do 1 lap, so I went out for another half lap and then headed back to camp to get dinner and the kids sorted.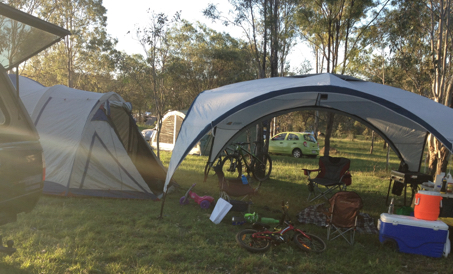 I would have loved to have kept riding, but there were mouths to feed. By this stage the kids were feral. Miss 20 months hadn't had a day sleep and was inconsolable. Felix was hypo and exhausted from riding and playing in the bouncy castle all day. It took 2 hours to wind him down to get him to sleep. By this stage we were exhausted too, and decided not to do any night laps. Slack maybe, but we were enjoying the peace and quiet and chocolate at the campsite.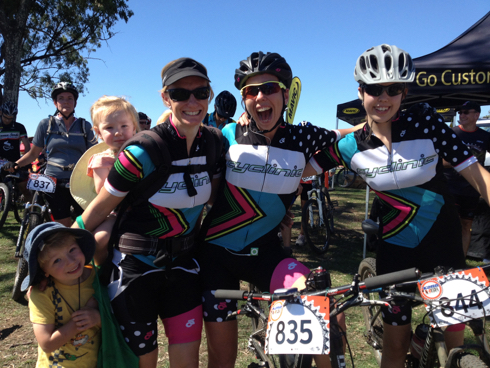 Morning time and it was Easter Sunday. We had chocolate eggs and the kids were hypo by 7am. Time to do some more riding!
We did a few more laps each and watched the crazy 24 hour racers come in from riding all day and all night. They are machines.
We had fun, came in 3rd place in the mixed team. Took a while to pack up the camp and we have decided that 2 nights camping is not really worth the massive effort it takes to pack up the car, kids, bikes etc. It needs to be longer than 2 nights.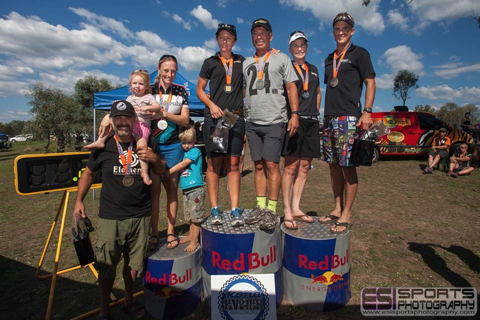 It was great to be out riding.!